The Simi Valley Corvette Club is more than just two meetings a month. It's about making friends, getting together with these friends and taking AMERICA'S TRUE SPORTSCAR out on the road, for a "run".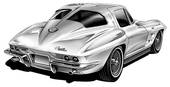 We're ready for another great year in 2017.  Club membership exceeds 140 and enthusiasm is higher than ever.
————————————————————————————
We are pleased to have Simi Valley Chevrolet sponsor our club.  Please visit their website below for further information on the dealership.
—————————————————————
Deserving recipients of our annual charity contributions:  SIMI VALLEY NON-PROFIT SPRAY AND NEUTER CLINIC and THE SIMI VALLEY COUNCIL ON AGING.
Introducing our EBoard for 2017:
President

– Bob Silverman
Vice President

– Randy Rahm
Treasurer

– Michael Verity
Secretary

– Noli Reyes
Contacts:  Steve Johnson (website) 805-340-1960; vettesimi@yahoo.com      
Here is a link to our Application Form